With all the things going on in 2020 right now, I'm starting to wonder if a lack of rain during monsoon season will just be another tally to the 2020 bingo card.
Would it be any surprise that with this heat, there is just no room for building a garden? In fact, I've been seeing this jem of a meme floating about interwebs:
Thanks, ABC, for reminding us what Phoenix summers are like.
But, all is not lost!
During this time of embracing two new AC units, I've been doing a little reading up on Square Foot Gardening; and have been in the works to finish this book by Mel Bartholomew:
The concept is simple: grow as much as you can in a small amount of space. If you haven't had the chance to look into it, I highly recommend it! In fact, I only became aware of it thanks to my new favorite YouTube channel: Growing in the Garden. (I'm pretty sure she's going to be my new best digital friend in the coming months as I prepare for the garden). If reading isn't your thing, but videos are – she's my Phoenix Phave!
All silliness aside, I am taking this time to
evaluate what I want to plant
re-asses how the garden will be made
What to plant
Going back to Project: Red days, I was super lucky in the amount of basil, tomatoes, and red peppers I was able to produce – all indoors. Thinking of Project: Verde and how I want to truly benefit from the garden, I had to evaluate the foods that our household eats to get the most bang for our buck.
As easy as it is to grow tomatoes, the Mr. and I just aren't big fans. We have, in the past, used some tomatoes for a dish, or too, but if we were to plant again, it will for sure need to be as few plants as possible!
Peppers on the other hand, are a breakfast favorite for our eggs! (that, and onion). But, since we haven't had any grown from home in a while, and haven't really purchased any at the store, I can't say it would be terrible not to have as many.
Basil, on the other hand, boy do I miss my basil! Before moving we couldn't keep up with its production and tried freezing it! I'm not sure how the Mr and I didn't get tired of homemade pesto, but since we haven't had it in a while, I am sure craving it now!
So what now?
Well, I looked to our fridge and found the foods we eat most include:
Spinach
Broccoli
Spaghetti squash
Onion
And the foods I want to bring back into our life:
Then there are the foods I want to try:
Garden building
Just like in the Square foot gardening book says: start small. Initially, I was looking at my backyard garden space trying to plan out the entire yard, and really, I just need to focus on what I want now. I do say that with the caveat that I want to plan for the future. Should I plop my raised garden smack-dab in the middle of the "garden space" I've designated, I won't' really have flexibility later on.
I also wanted to take advantage of some palettes the Mr was able to snag for me from his work. Since the palettes tend to come in 3'x3′ sizes, I figured, why not start my garden at this size? This would also allow me to utilize space against our wall, and, most importantly, give me my mini compost I've been dreaming of!
Here's the plan: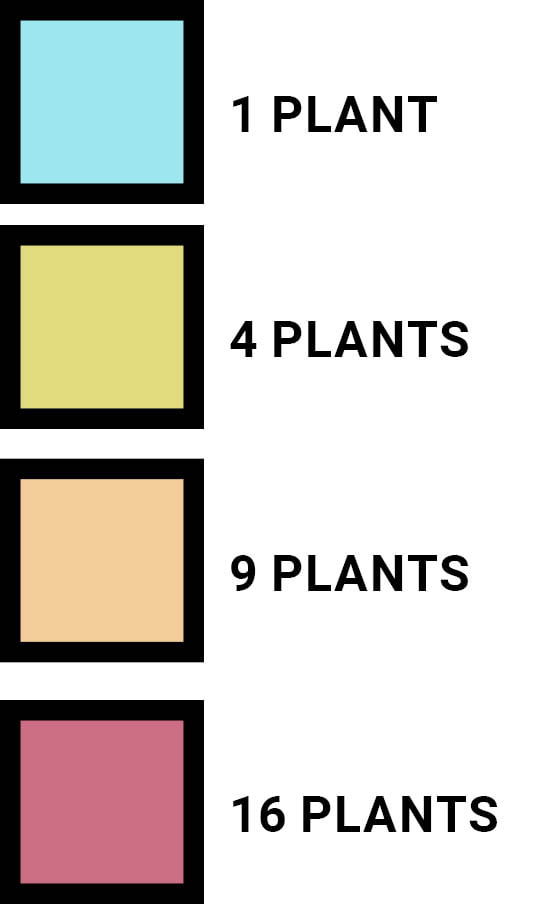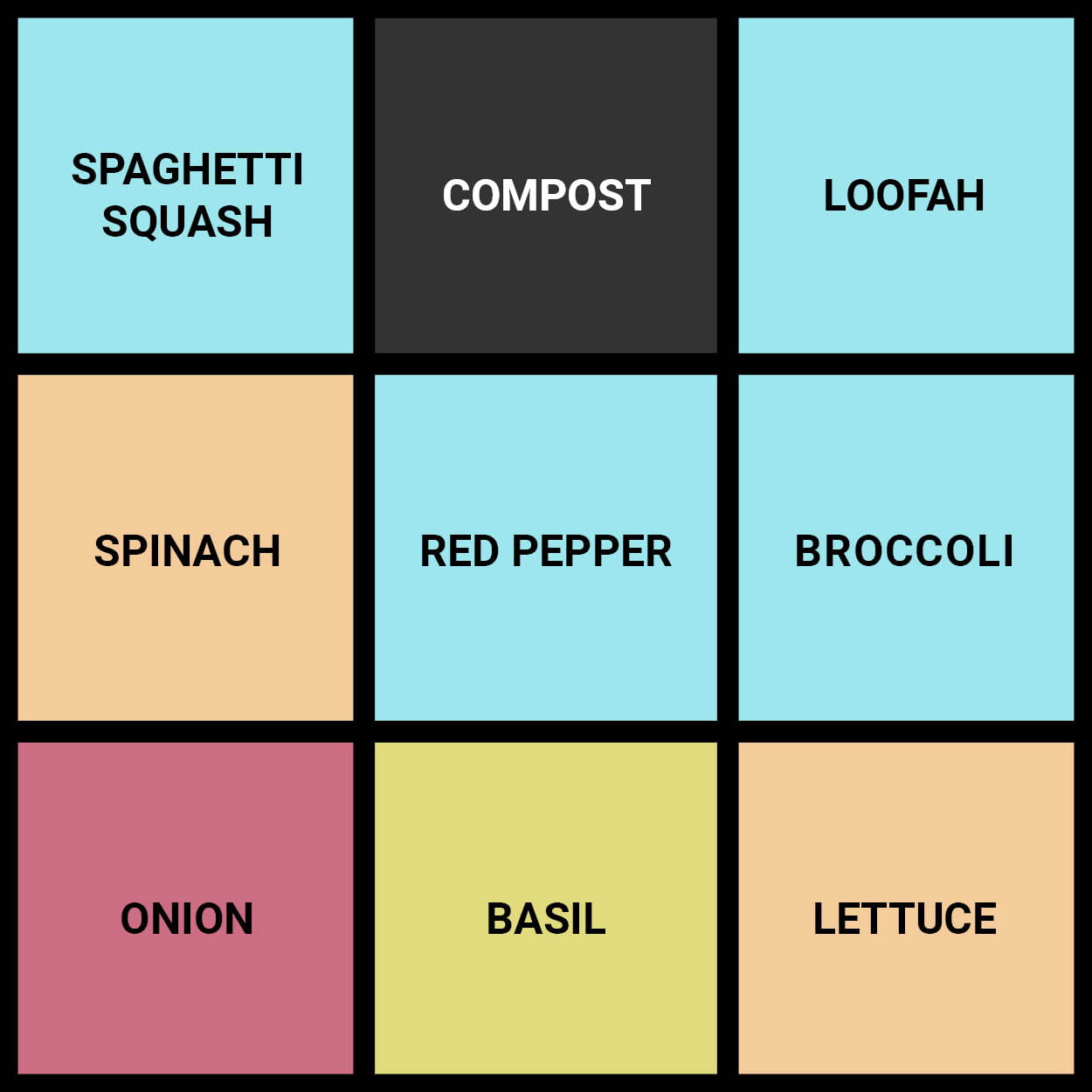 Now, the bigger question, if figureing out the layout of the garden space long-term!
Perhapes that's another post for next month…
(PS, you'll notice that potatoes are not shown here; I've got another plan in store for that one!)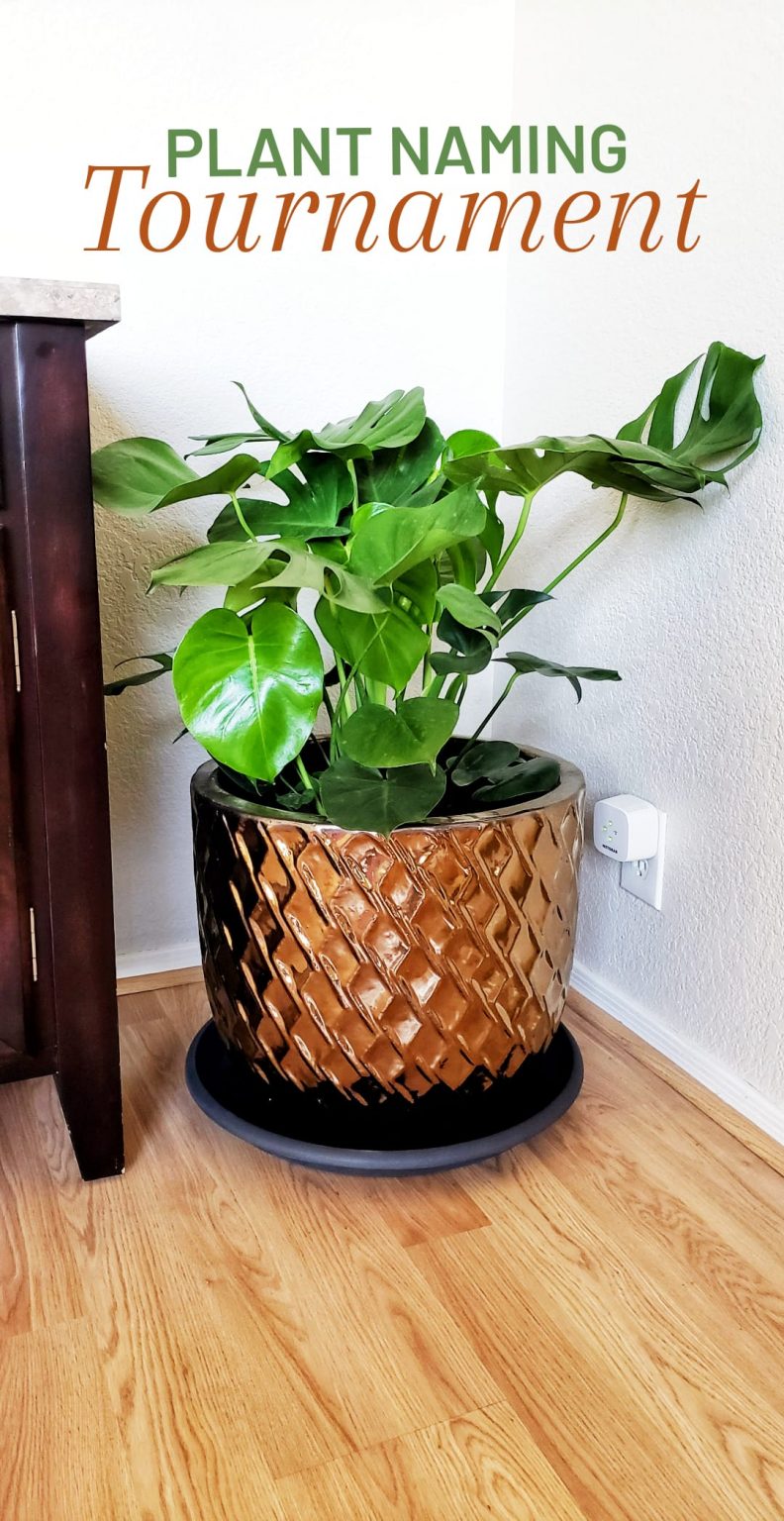 In other plant news
We have a new indoor plant! Meet the Monstera adansonii, or Swiss cheese plant. This little number came on a whim when the Mr and I decided to take a trip to a nearby nursery, just for funsies.
The thing is, we tend to have names for our favorite indoor plants; and this Newby is one of them! So, be on the lookout this week on The Green Hearth Instagram and Facebook page to take part in this tournament!
While you are visiting, you can check out a little recap of the garden for the month of August!