Each year the IL Green Alliance has put on the Green Built Home Tour, I come across a tour, or tour, that is packed full of juicy information; this house did just that.
Upon entering the home, it's at a similar stage to the Modern Victorian where most of the insulation was in, but none of the gypsum had been installed yet. This is one of my favorite phases of a project, especially when discussing sustainability, since you are not distracted by the pretty finishes, but can instead, see the bones of the home, and appreciate all the things you won't be able to see after move in.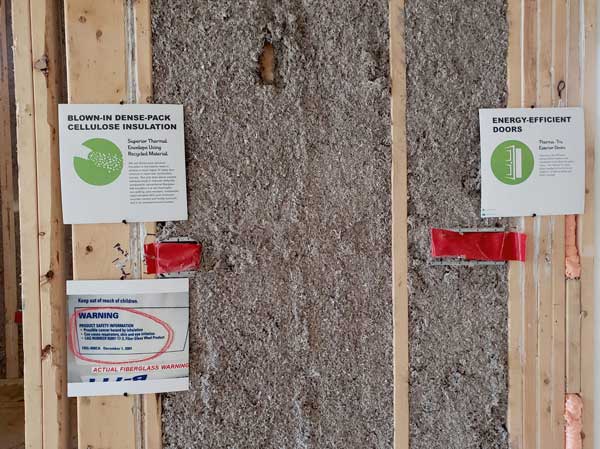 One thing I appreciated on this project was the use of cellulose insulation rather than fiberglass or foam. According to our tour guide (a designer at the firm who worked on the project), the insulation was up too 99% post-consumer content (meaning it had a full life after production for its original use and was created later in its life to be used as insulation). In fact, some of the shreds of paper within the cellulose still had words on it from the clippings.
Another great method for improving insulation was the staggered stud approach for exterior walls. This technique deepens the wall and allows the insulation to zig-zag through the entire length without breaks. Even the corners of the framing allowed for insulation to be pushed back as far as possible to limit the possibility of those "cold corners" during the winter.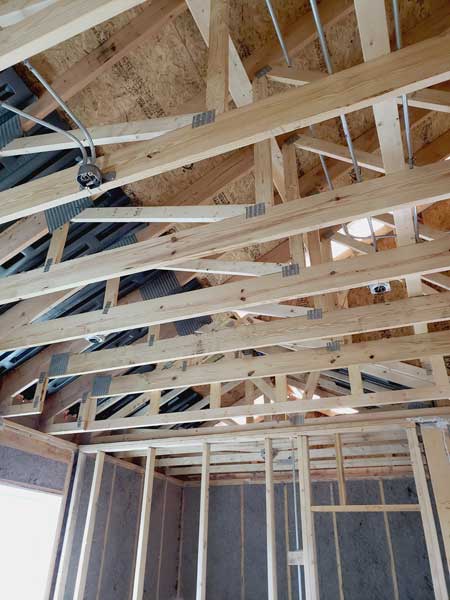 The guide also mentioned the use of open trusses between floors to integrate as much of the piping and cabling through the ceiling space, rather than cutting holes in beams, or snaking around obstacles. This was one I appreciated being noted and didn't realize how uncommon it was until they had pointed it out at this house.
One final item that I found particularly interesting with this layout was that they had designed it to be on a 2′ module. You may be wondering why rooms and ceiling heights would be designed in such a way, but the design team had carefully considered the common dimensions of material to limit the amount of waste on the job site. This simple act alone could save a project a good chunk of change, and provide an even larger diversion from trims and pieces going to the landfill.
---
Home Information (Link)
Bold Farmhouse Meets Sustainable Design | 68 7th Ave., La Grange, IL 60525 view map
A farmhouse-style home with luxury upgrades… Bold facade unlike any other with an open layout, smart home features and sustainable materials throughout.
Construction Status: Pre-drywall
SIZE: 3100 square feet above ground; 4,700 square feet total living space
PROJECT TYPE: Single Family – New Construction
HOME DESCRIPTION:
This BrightLeaf home is being built in historic La Grange with a bold farmhouse facade. You will see 'Inside the Walls' when you visit this home. The scientific approach taken to building this new construction home includes the most sustainable, healthy materials and technology, which creates a long-lasting, more comfortable and beautiful home that improves the quality of life and health of those who live in them.
Upon completion, the home will feature luxury finishes, a fabulous open layout, and a work out room above the garage. This home will also feature water-saving fixtures, highly efficient windows, and doors, radon venting, and basement waterproofing. The Bold Farmhouse Meets Sustainable Design will also have a 10-panel solar array installed.
Consistent indoor temperatures, room to room and even from one floor to another. Better indoor air quality with high levels of air filtration and building materials without harmful chemicals. Extremely low utility bills with a high-efficiency heating, ventilation, and cooling system. Bright, dry, and comfortable basements that you'll actually want to hang out in.
CERTIFICATIONS:
DOE Zero Energy Ready Home (Pending)
ENERGY STAR for Homes (Pending)
HERS Rating (Pending)
BUILDER:
BrightLeaf Homes15 Spinning Wheel Rd., Ste. 124, Hinsdale, IL 60521
630-474-5323
www.mybrightleafhome.com
WEBSITES:
Project Website: https://www.mybrightleafhome.com/
Instagram: instagram.com/brightleafhomes/
Facebook: facebook.com/brightleafhomesllc/
Twitter: twitter.com/brightleafhomes
Pinterest: pinterest.com/brightleafhomes/
Youtube: youtube.com/channel/UCHzW9s6soa4sXggxo457rJA?view_as=subscriber
Check out this steam shower!

Basement insulation and information

Rendering of the final home design