Last fall, I attended a discussion on BIM with my local IIDA chapter. At my knowledge level, the topic was both rudimentary as well as inspiring (it covered a large ground of what BIM is). After the event, and after much contemplation of my own experiences using BIM (and, in particular, Revit) I worked with the chapter to develop a panel discussion bringing together designers and manufactures to talk about things we need/want/hate and the benefits or challenges to using BIM. Here's my recap and thoughts on the event…
The "Anyone can be taught, but few are gifted" lie
Okay, not actually a flat-out talking point of the night, but still; I've actually heard this phrase being said in some way or another since I was an intern. From the designers I've heard it from, it was always about how any person could learn how to use the tools to document, but you couldn't teach a designer "good design". I've always hated this mentality because it meant the only way for you to succeed at being a designer meant your hard skills could be weak, but if you couldn't pull a palette together, you're better off changing careers.
I'm here to tell you that this is not true! I have seen many talented designers – at all levels – who either don't get Revit, or, refuse to truly grasp it.
That's being said, a comment made last night was one of my own indicating to manufactures to "dumb down" their models so your "average designer" could work with it. I hadn't realized I had completely contradicted myself earlier in the session when I was trying to push the use of Revit for designers. It was brought up that, yes some of these tools within a Revit family could be seen as "more advanced", but at the same time, were created in a way to reduce bloat to a model size (ie. Having a type catalog can be challenging for a designer to understand why they aren't seeing the different family types, but that allows the designer to pick and choose the few they need in their model rather than the entire set of options.
Kudos to the manufactures that brought this up! As designers, we need to be willing to continue to learn and grow, no matter how many years of experience we have!
You say it's a Revit file, so why give me something different?
I'll admit, this was one of my "wish list" items I announced towards manufactures. If I am able to download a Revit file for your chair family, please, please, please build the family in Revit, not another program – and don't assume inserting a 3D CAD into a Revit family will work! I can't tell you how many times I've seen this and it causes messiness in plans from the polygons in the 3D CAD, and when we are in a crunch for renderings, if I can't change the material, chances are I will find something that will cause less of a headache.
As an additional note here, I did hear comments about what was in the models from manufacturers. Some designers indicated that models could show the nuts and bolts (literally) of a piece of furniture, when it really wasn't something we needed. I also shared a story (presented by a good friend of mine) of a furniture family – pulled off of a manufacturer website – that contained a nested family… Of a door! These sort of Easter eggs cause serious bloat in our models and lots of frustration. It pretty much sounded like the consensus here was: give us what we need to produce, but leave the nitty-gritty details at home.
Image is everything
I may have been the biggest chatter-upper about seamless textures at the event, but I wasn't the only one to talk about materials within families. Designers on the panel unanimously agreed that having a family with all material set to default was fantastic and ideal – however, we all did request a Material Browser library of the manufacturer's finishes. Think about it: if I'm bringing in your family for a lounge chair, I don't need the legs to be cherry when I know I'll be using walnut. I don't want the cushion to be a solid red, when I want to propose to the client a green pattern (and that's, of course, once I am willing to show the material. I may only show them white box renderings to focus on the space way before they get bogged down with color).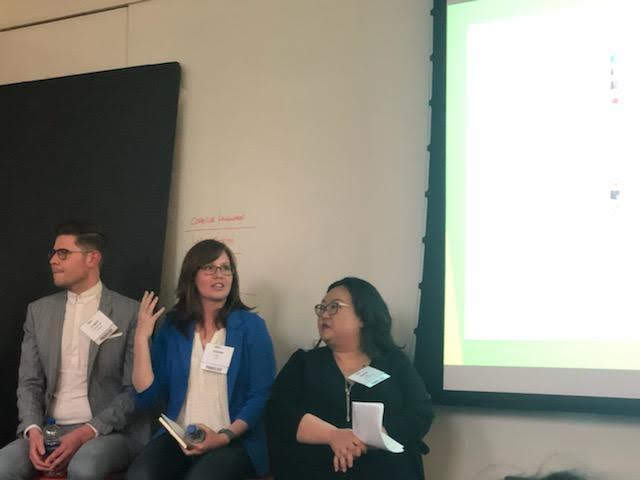 I will also note that in terms of the material library, this is an excellent opportunity to create seamless textures with appropriate reflection, bump, light emittance, etc. Help us make your finishes look like the real thing for our renderings!! Help us, sell your products to our clients!
And most of all: we need those images! Don't assume a library file on its own will work. Revit needs to reference the image, bump map, cut image in order for us to render properly. Manufactures for plastic laminates, glass, and upholstery may be hesitant with this – but let me tell you it will be a game-changer for us specifying your products!
Let's say all your company is willing to do is provide the seamless texture. That's okay. Just make sure as part of the file name, or a text file included in the download, you indicate what the full repeat size of that image is. Are you giving me a wall covering that I should repeat 6″ x 6″ or 30.25″ x 9.28″?
Moral of the story: give us your finishes as a material library and keep your families naked!
Give me what I want… With sprinkles on top!
Another comment mention in the panel was the designers' need to edit "locked" information by the manufacturer. Sometimes, we just don't like seeing camel case in our schedules (it's some crazy tradition with construction documents). And, sometimes, your Revit family is so good, but the client chose someone else, but that manufacturer's family is terrible (or non-existent) that we will keep one great family in, but change the data to represent another. (this leads into the last discussion point at the end.) So, please, minimize the amount of pre-determined parameters.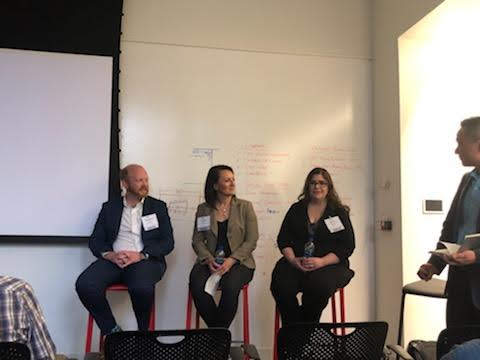 Additionally, the topic of sustainable information came up (not going to lie, since I helped set up the event, I wanted this to be a talking point from my futurism standpoint). I was relieved to hear another designer say that not having information for sustainable references could be a deterrent for using them, others said they didn't need that type of information for the work they did. But the reason I wanted to talk about this on the panel was the "what if" perspective. What if, my Revit Material Browser could populate the VOC information and spit out if my project is meeting the low emitting materials from LEED or WELL? What if designers knew roughly where they stood with the Building Product Disclosure and Optimization credits for everything they were specifying – as they were specifying?
We aren't limited to what we see on the screen today, just by how far we are willing to see the future.
Last addition to this topic is the curious case of "generics". Designers are a funny bunch who want a very detailed model one minute, and a bare minimum version the next. I've seen designers use a linear light fixture that was "generic" with its length as an instance parameter to play with the design. I love these, they're great, allows for flexibility… until you need them to render and end up having to create family types for each length anyways for the light emittance to be the correct length as well.
So what's the verdict on how much is just enough? Hard to say. We all do things differently and having an event like this helps to bring everyone together to understand our needs.
If you don't have it, we probably won't use it
Easily the most important take-away for manufactures from the people that use their products (or could specify their products): if you don't have a Revit model these days, there is a good chance you won't be on the project. Clients are visual. Heck, it's probably safe to say everyone reading this is visual. So, if we show a perspective, but that light fixture doesn't look like what we are proposing, there is a good chance there will be confusion down the road. Seriously, that's part of why we don't show color or materials initially in renderings – the client will focus on why the door frame is orange for a solid 20 minutes!
And make sure, like the comments above, these models are truly Revit families! If it's not simple enough to insert into our model and make some adjustments here and there, most designers will move on to the next (or, like me, I will get asked to model something for another team).
Let's do it again!
The event was such a great turnout, I wish we could have answered the other questions waiting in the audience! The IIDA Illinois Chapter has already determined this was just the first of a 3-part series since there was so much interest, and there was even a request for a coalition, or roundtable, discussion to bring everyone to the table! You guys really made my night!
If there is any interest in being on the next panel, or joining a working group – let me know!
Big thanks
This event couldn't have been done without the help of Marisa and Enza from IIDA Illinois Chapter, our moderator Johardy Sunandjaja from Armstrong Ceilings, and our stellar panel: Ben Glunz from BIMSmith, Kinga Accolti from Focal Point, Sarah Hampton from Haworth, Genie Bae from Cannon design, Logan Christensen from Stantec, Peter Cuvalo from Gensler, and Candace Mountain from UniSpace.