Every year, the IL Green Alliance puts on a weekend event that opens homeowners' doors and shares with the community how to integrate simple, and even complex, sustainable strategies. This year, I only made one of the two days, but I did manage to see five wonderful homes starting with: the Eco Farmhouse.
Talk about a beautiful home! I will say, the big takeaway from this was that the design was really based around aging in place.
Aging in place is when you design with the assumption of living for so long, you have already built in the necessary needs of the home with limited mobility (whether that be in a wheelchair, or simply needing some assistance in moving from one place to the other).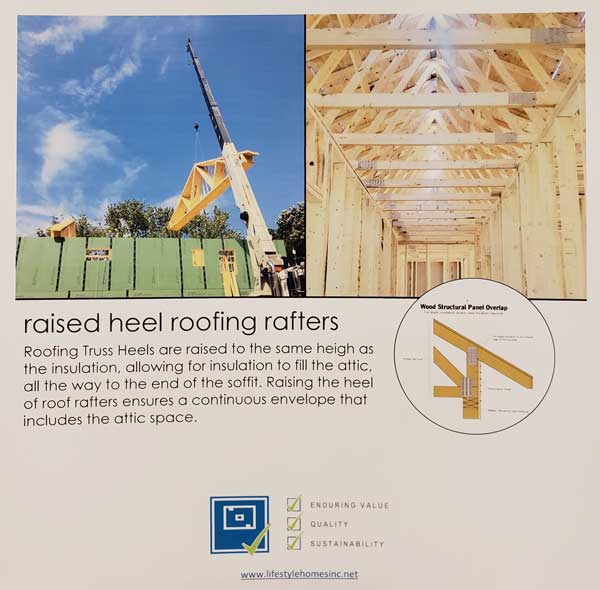 The family currently had all of its bedrooms on the second floor, but, also had a guest bedroom and full bath on the first for their aging in place. This design actually makes a lot of sense! As the family is still young, they can take advantage of the beautiful views outside their 2nd-floor windows, and any guests still feel they have private quarters on the main floor until the time comes when the parents need to move to that part of the house. I will also say, incorporating wider doors for any future wheelchairs, or other aging needs, is a great step the family took in planning these out.
The one thing I have to say that I struggled with was the use of a Styrofoam insulation for the basement. This confused me at first with the durability (especially to hang something on a wall – this was your stud!) turns out, there is a mechanism within the Styrofoam to act as the stud when needed. I think the biggest Concern here was the simple act of using Styrofoam. It's not a product any recycling stations I know will take. And it will take thousands of years to decompose in the landfill – construction already takes the lead in tons that enter our landfills each year! What will happen if they remodel? Or need a repair and replacement? Or worse still: what if there was a fire? Do you know how flammable Styrofoam is?
Overall, the house was gorgeous. The tour guides were wonderful in Sharing the information on the bones of the house, which I appreciated.
Home information (link)
Eco Farmhouse, 5435 Fairhaven Ct, Downers Grove, IL 60515
A modern farmhouse style single-family home, providing modern comforts with sustainable design and construction principles.
Construction Status: Complete
SIZE: 3,184 square feet
PROJECT TYPE: Single Family – New Construction
HOME DESCRIPTION:
This home is the end product of Lifestyle Homes meeting an Earth-conscious, forward-thinking family who was interested in building a sustainable home to raise their small children. The site provides a perfect campus with a winding creek, a small branch of the DuPage River at the end of the property, waterfalls, mature landscaping, and an inground swimming pool for their little active ones.
The Eco Farmhouse was designed for the family's lifestyle centered in sustainability. The most current building science methods are incorporated for Energy & Water Efficiency and Clean air to provide healthy indoor air quality and comfort. The simple exterior and roofing were designed to minimize long term maintenance. A South facing single plain roofline maximizes solar electricity production and a tight enveloped exterior simulates the Passive House result but is not prescriptive. Use of natural building materials and added design detail shines throughout this warm farmhouse. This beautiful home is well balanced for the building cost and ROI; Return of Investment. This home is where sustainability meets high performance and is built to last. We are anticipating Net-Zero energy efficiency in this home with 40 solar panels and Microinverters at 4/12 pitch, all south-facing.
After the interior of the house tour, please stroll into the ground to experience the symbiotic relationship between the house and grounds.
CERTIFICATIONS:
DOE Zero Energy Ready Home (Pending)
ENERGY STAR for Homes (Pending)
HERS Rating: 5 (Achieved)
BUILDER:
Lifestyle Homes, Inc.
P.O. Box 610, Lisle, IL 60532
630-258-9357
www.lifestylehomesinc.net
Our mission is to provide you with a home that continues to meet your lifestyle needs throughout the many stages you will encounter with your family, by providing functional space that is built to last, in the most cost-effective way.
WEBSITES:
Check out thie shower door design to allow for ease-ability to get in and out while not using any floor space for a swinging door.

I loved this oven/microwave combo!